Surprise your friend for his birthday: How to do everything right!
You want to surprise your boyfriend for his birthday and are looking for ideas? Then you've come to the right place! We show you how and with what you can surprise him on his birthday.
 22.05.2022 } 4 min  Boyfriend, Surprise, Birthday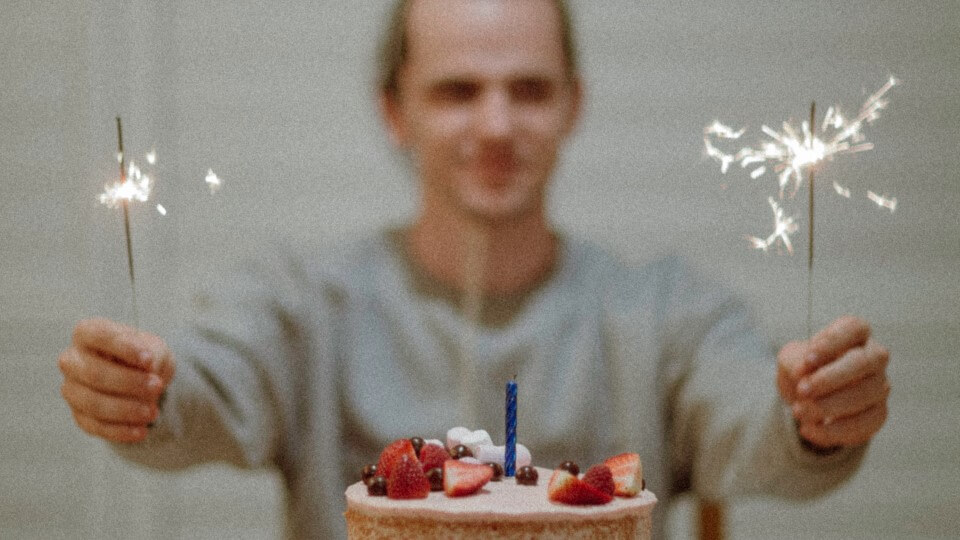 Surprise the boyfriend for his birthday – Introduction
Men are also happy about a very special surprise for their birthday. And it doesn't have to be expensive or fancy. It just has to fit and, above all, come from the heart.
And that's where the problem often starts. If you want to surprise your friend on his birthday, then it is not enough to think about it and just buy him the next best gift.
You should think about what exactly he might like beforehand. Write a list of characteristics that describe your boyfriend. Then write down his hobbies and preferences. And from all this you will get a good mix of things that can be useful.
Birthday surprises for boyfriend – our ideas
Below you will find the ideas with a brief explanation.
Write a few personal words
Often we don't find the right words right away. Or there is simply not enough time.
So how about writing him a few personal words. Not via WhatsApp, but on paper. He certainly won't expect that. And the good thing is, he can read through your words again and again. And he will, if they are well chosen.
Unfortunately, it is difficult to give a general guideline on what you should write. It is important that you are honest and authentic. Just write down what you like about your boyfriend and why you like him so much. Then the words will usually come naturally.
Breakfast in bed
What better way to start the birthday than with breakfast in bed!
Fresh rolls, hot coffee, scrambled eggs. And all this served to the bed by the beloved girlfriend. That's exactly how a man wants to start a successful birthday.
Does he have a preference for anything? Freshly squeezed orange juice, scrambled eggs with bacon or American pancakes? Then prepare just that for him. That is how the birthday surprise for the boyfriend in the morning will succeed.
Decorate the apartment
Your boyfriend's birthday is during the week and he has to work? Then surprise him and decorate the apartment a bit. You can hang balloons, put flowers or garlands. Table decorations, roses or candles are also suitable. A picture frame or photos of you. Or has he always wanted the purple wall in the living room to be painted white? This is also a great surprise.
Erotic photo shoot of or with you
When he sees the erotic photos of you he will be surprised for sure.
Better yet, organize an erotic photo shoot at your place. Book a photographer or borrow a good camera including a tripod if you are too shy. Prepare a small set and outfits. And then nothing can stand in the way of the erotic photo shoot.
If you want to surprise your boyfriend for his birthday, this is the perfect idea.
Get a personal trainer
Your boyfriend always wanted to try jiu jitsu? Or get nutritional advice from a professional? Then the birthday is just the right occasion to surprise him with it.
The personal trainer comes to your home and shows your friend what is important. And he doesn't even have to leave the house. He certainly didn't expect that!
Bake for him
Nowadays, only the fewest do any baking. But most men love a mighty cake or delicious cupcakes.
Bake a delicious cake for him. With fondant you can easily decorate it with a sweet saying. It's good if you know what your friend likes best.
Put some candles on it and let him cut the cake and taste it.
Rent a sports car
Your loved one has always wanted to drive a Porsche? Or drive along the coast in a Mustang convertible on a sunny day?
Then rent your loved one his dream car for a day! And when the car is in front of the door and you tell him we're going for a little spin, he's guaranteed to be amazed.
Create a jar with 52 small messages
A nice and unusual surprise for the boyfriend for his birthday! Because this way he has a little surprise every week for the next year of his life.
The little messages can contain anything: Love tokens, sayings, jokes, coupons, activities, sexual things, photos. You're bound to get 52 nice things that way.
If 52 are too many for you, 12 will do, so one message per month.
Then let him pick out of the jar at the beginning of the month. Fun for a whole year guaranteed.
The surprise party
Speaking of birthday surprises for the boyfriend, of course, the surprise party can't be missing!
Even though many people say they don't like it, if the right guests are there and you don't have to worry about anything, a surprise party always goes down well!
The important thing is that you prepare everything. Invite his friends, get something to drink and eat. Decorate the apartment a bit. And most importantly, make sure he doesn't know there's a surprise party for him!
If you have thought of everything, your loved one will be happy and surprised.
Fulfill his heart's desire
Think about what your friend has always wanted to do.
Skydive, drive the Route 66, go to Las Vegas.
And then fulfill this wish on his birthday. If it costs too much, just ask his friends and relatives if they would like to participate. This way you often kill two birds with one stone. The friends and family no longer need to worry about a gift. All they have to do is sign a card that you've provided. And you'll have enough budget to fulfill your boyfriend's heart's desire.
Make a scavenger hunt
A modern scavenger hunt for a birthday is something different!
Whether it's at home, outside in your own city, or on a sightseeing trip. Prepare everything for an individual scavenger hunt for him. Most of the time, it's not that hard. It just requires a bit of work. But you should probably take it upon yourself, after all, it's all about surprising your boyfriend for his birthday. And for you to succeed, you have to be willing to invest some time.
Create a calendar of the two of you
A beautiful individual calendar with pictures of you always comes good. Besides, it's also about next year, after all, it's his birthday.
invite his best friends
We've already had the surprise party, but this is more about inviting only his closest friends.
Even if it's just his 3 best friends coming over for a beer and you giving them a few hours of freedom. I'm sure he'll love that. After all, he wants to spend the day with the people closest to him. But of course you should also be there. And after they are gone let the evening end with just you two.
plan a short trip
A very special surprise for a boyfriend for his birthday: a short trip.
Here, too, you should first think about where he has always wanted to go. Besides a city, this can of course also be a sightseeing spot. Has he always wanted to visit the brewery of his favorite beer or the Ford factory? You can combine something like that with a short trip.
If you don't have the budget for it, you can ask friends and family to join you. They don't have to think about their own gift and you have more budget for the short trip with your friend. But let him know who has contributed.
Get a video game and play with him
Your friend likes to play and doesn't think much of a surprise party?
Then check out his video game list or ask his friends what he likes to play. Then get or borrow the game and get everything ready for a day of gaming. A second pad should be there, snacks, cool drinks and the flyer from his favorite pizza place.
And if you as his girlfriend do gaming with your boyfriend as a surprise birthday, he'll love it!
Surprise your friend on his birthday – Conclusion
These were our ideas how you can surprise your boyfriend on his birthday.
We hope there was something for you in there. We'll keep adding ideas to the list, so feel free to check back! If you want to help us, send us your feedback and ideas by mail. This way you will not only help us, but also other women who want to surprise their boyfriends for their birthday.
More Surprises
Your content goes h
inline or in th
also style every a
Design setting
text in the modu